Nous vivons tous dans un tableau de Hopper…
Nous vivons tous dans un tableau de Hopper…
Alors que 4 milliards d'être humains dans le monde sont confinés en pleine épidémie du coronavirus, les internautes sont des milliers à se partager des peintures du célèbre peintre. Pourquoi ?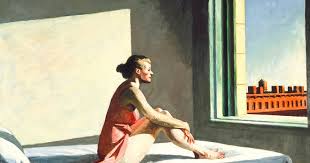 Comme les personnages de Hopper nous sommes immobiles au coeur du cyclone. Célèbre pour ses personnages solitaires et ses paysages urbains déserts, le peintre semble décrire avec réalisme ce que nous vivons tous à l'échelle planétaire. Il a capté à son époque la solitude post-moderne.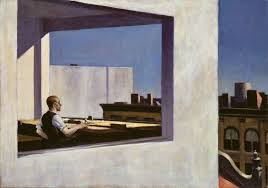 La solitude dont Hopper se voulait l'illustrateur n'est plus seulement un concept, elle est bien réelle aujourd'hui. La perte soudaine de contacts sociaux, de liens charnels avec nos proches, le confinement que nous respectons plus ou moins, nous plonge dans un isolement contraint. Comme dans les tableaux de Hopper dans les rues le temps s'est comme figé, suspendu. Nous sommes passés d'un monde accéléré au mode pause. Pour combien de temps ? nous ne le savons pas, même si des plans de déconfinement se dessinent, il n'y a plus aucune certitude et beaucoup d'inquiétude…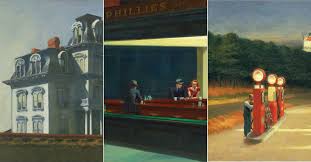 Les tourments intérieurs de l'artiste sont bien proches de nôtres en ce moment : la solitude, l'amour, le passage du temps, la mort. Prémonitoire ou pas, nous tenons là l'artiste de l'ère du coronavirus.
All, we are living in a Hopper painting …
While 4 billion human beings in the world are confined in the middle of a coronavirus epidemic, thousands of Internet users share the paintings of the famous painter.
Why?
Like the Hopper characters, we are immobile in the heart of the cyclone. Famous for his lonely characters and his deserted urban landscapes, the painter seems to realistically describe what we are all experiencing on a planetary scale. In his time, he captured the post-modern solitude.
Today, loneliness illustrated by Hopper is no longer just a concept, it is our reality. The sudden loss of social contact, of carnal ties with our loved ones, the confinement that we more or less respect, immerses us into a forced isolation. As in Hopper's paintings in the streets, frozen in time, suspended. We have moved from an accelerated world to a pause mode.
For how long? We don't know, even if plans for deconfinement are taking shape, there is no longer any certainty, and a lot of concern …
The artist's inner torments are very close to ours, right now: loneliness, love, the laps of time, death. Premonitory or not, we hold there the artist of the coronavirus area.